The hearts of the gopis are like transparent pools of love and Sri Krishna is the black swan that plies the waters of those pools. Hari's mistreatment of the gopis was like the flapping of that swan's wings, a flapping that caused a cavalcade of ripples upon those pools' surface. As ripples shroud reflections upon a body of water, the gopi's pristine love was similarly obscured; consequently, they could no longer see the wonderful reflections upon its surface.
After He was humbled by the gopi's questions, Krishna's attitude changed, and His words of love consoled His troubled sweethearts. Seeing Him so kindly disposed, the vraja-devi's minds were pacified, and their pool-like hearts became clam once again. Now, peering into their hearts' watery depths, the gopis saw the glory of their love inconceivably enhanced.
How amazing! How could their love, which was without limit, increase? How had the secrets of their hearts, known only to them, been revealed to others? As they gazed upon the mirror-like surface of their love, the darlings of Vraja beheld their only lover. Seeing the twinkle in His eyes, the smile dancing upon His lips, the gopis understood He had tricked them!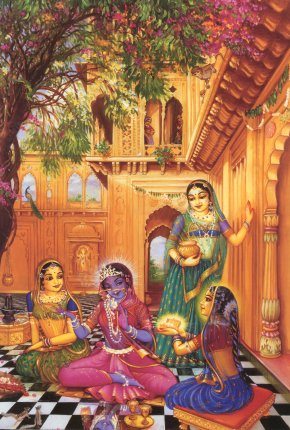 In their overconfident cleverness the gopis had planned to expose His ungratefulness - only to succumb to His designs. They had conspired to ensnare Him in a net of well-laid riddles - only to be caught themselves. He was the ingenious hunter, they the unwitting prey. And they had fallen into His trap of love - once again.
The gopis thought, "By our eagerness to surpass Sri Krishna, we were blind to the intrigues of His love. In our blindness we could not see that He was more eager to be defeated by us, that we were eager to defeat Him. In the contest of love between the gopis-lovers and the Syama-beloved the son of Maharaja Nandha has, by His love, defeated us once again." (Summary of Visvanatha Chakravarti Thakura's commentary to the Bhagavatam verses 10.32.16 - 22)