We do Food for Live in Leicester for a considerable time now. We distribute some 50 plates of hot and delicious Krishna prasadam offered to Their Lordships. Our distribution point is the Anchor club in Leicester, where mainly homeless people gather every Wednesday and Thursday to taste Krishna prasadam. There seems to be an increasing number of City Council officials too, who, with the excuse of doing some related business are eager to taste the Lord's prasadam.

Most stunning is perhaps that more and more people are calling out 'Hare Krishna' and 'Gauranga' when they see us. This puts us in a unique position and we feel we are not far away from having everyone raise their hands and calling out 'Gauranga!' before and during serving prasadam. Clearly people are getting purified by eating Krishna prasadam week after week.

We are planning to expand our 'Food for Live' programme in the near future. Our main cook is Vasanti mataji, a member from our congregation who especially travels every week from Loughborough to Leicester to do this ecstatic service. The distribution is handled by various devotees from the temple who are eager to get the mercy of Lord Caitanya.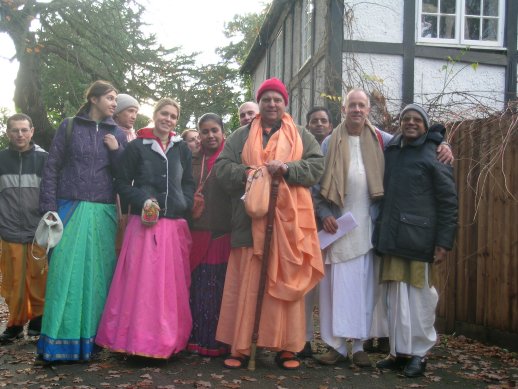 The Leicester devotees meet H.H. Jayapathaka Swami at Bhaktivedant Manor to take fresh inspiration for their preaching programmes such as 'Food for Life'.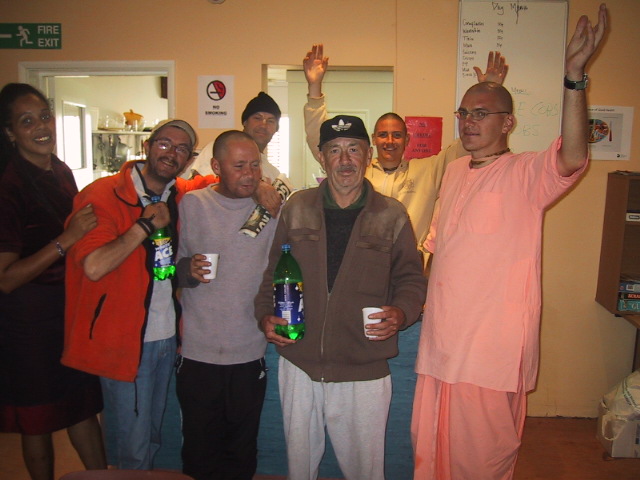 Happy faces after having taken two or three plates of hot Krishna prasadam at the Anchor Club.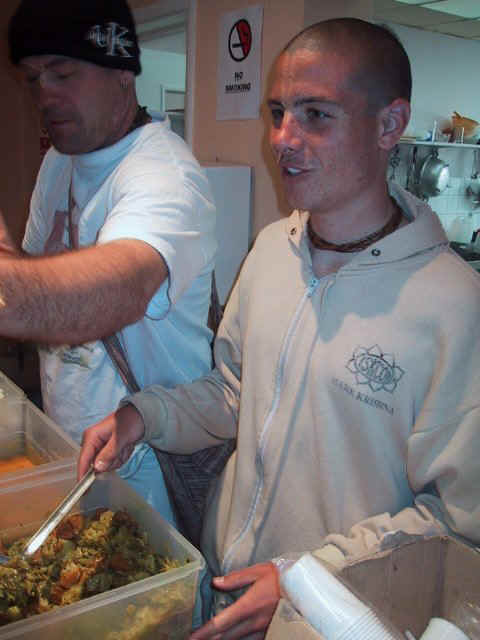 Distributing Krishna prasadam to the needy and those greedy for the Lord's mercy is the most blissful service I ever had. I would not want to miss a single day.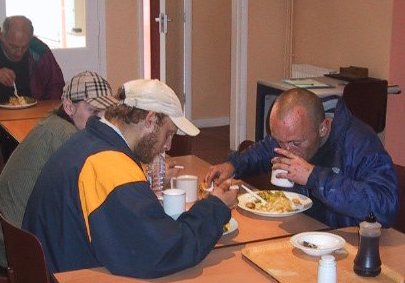 By midday the Anchor Club is packed with happy prasadam eaters.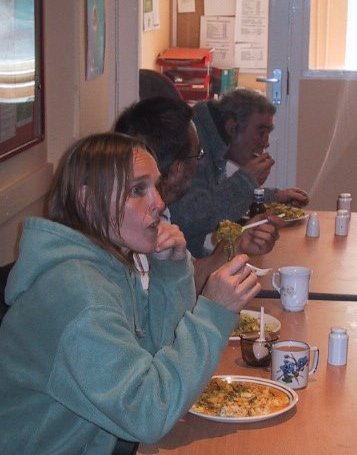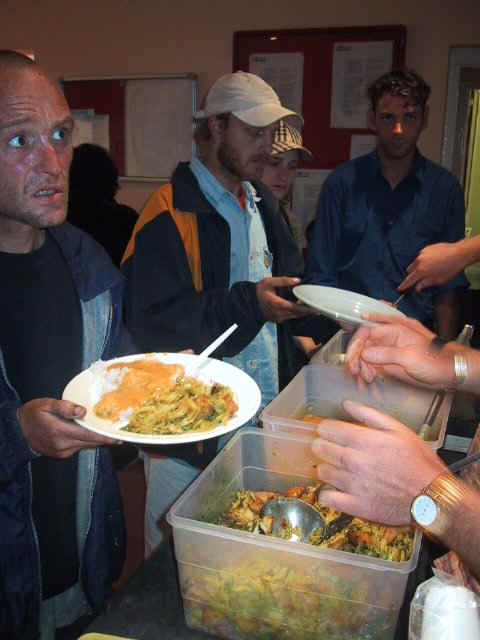 You really think that will be enough for me? Last Week I had three plates, don't you remember?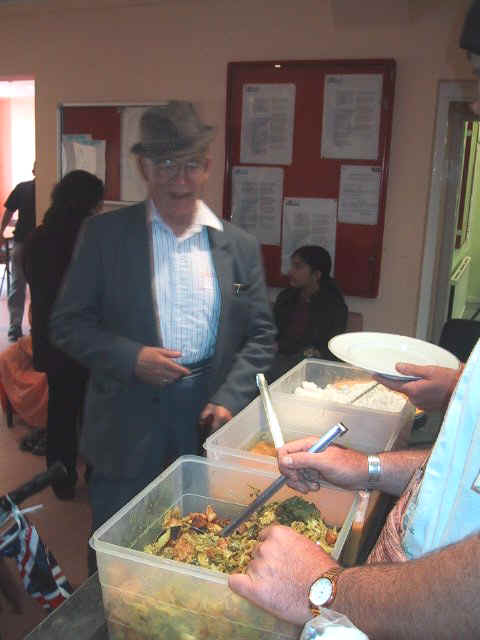 I never knew you people are doing something like this. I think I like you!
I'll guard this plate with my very life!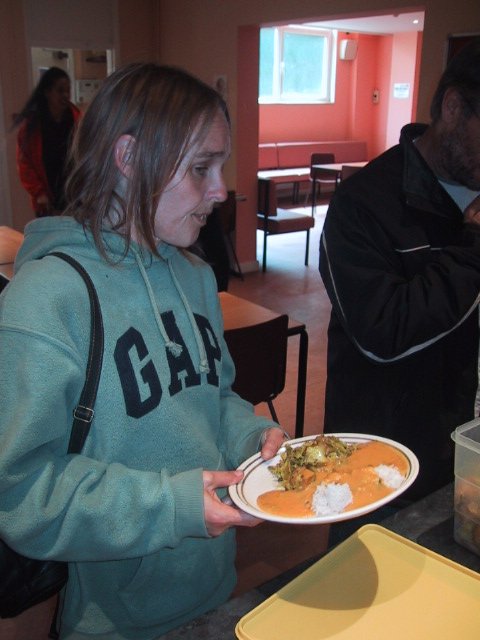 I am a regular. I have never missed a single time!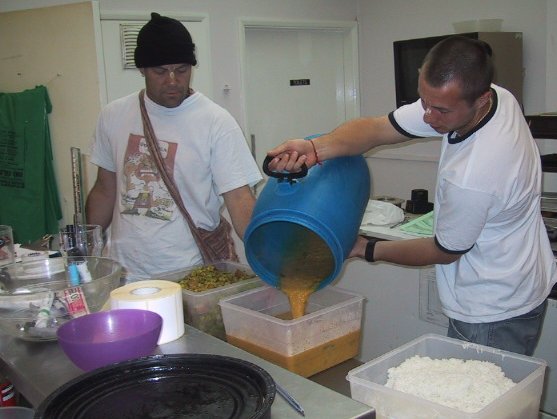 Almost ready for distribution, ... quick, Bhakta Adam, they are waiting!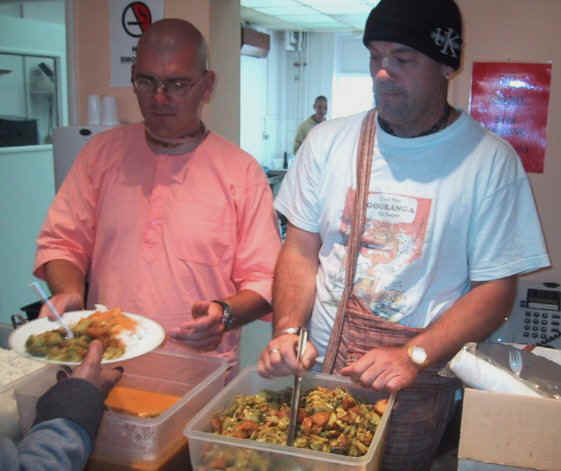 A good team!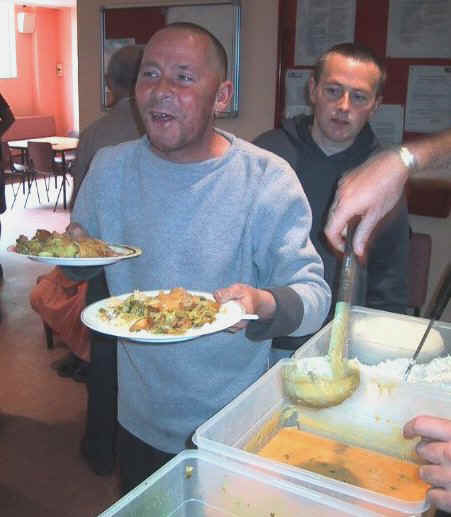 Some people are so eager to receive Krishna prasadam, that it is not unusual that they take two plates right from the start.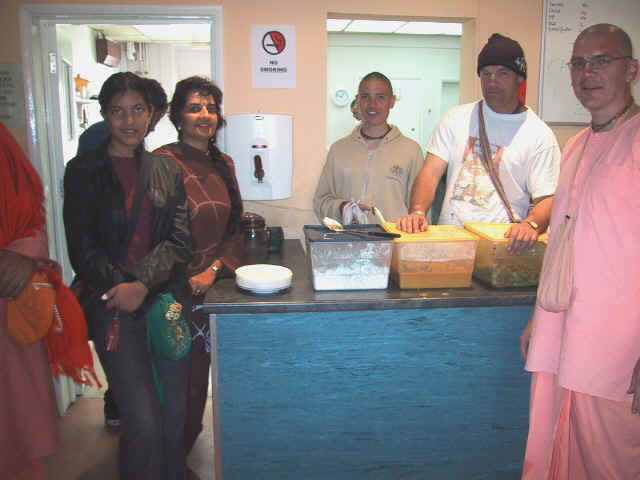 Kirtiben Jahni and daughter along with some of our devotees at the inauguration of the 'Food for Life' programme in Leicester.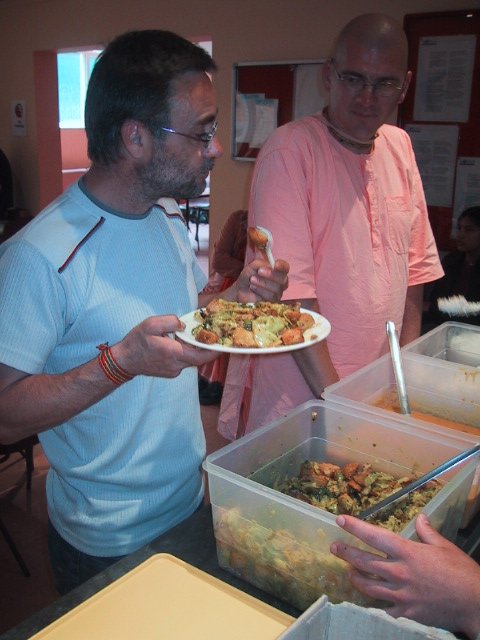 What subji do you have today? Is there curd inside? I'll take some more!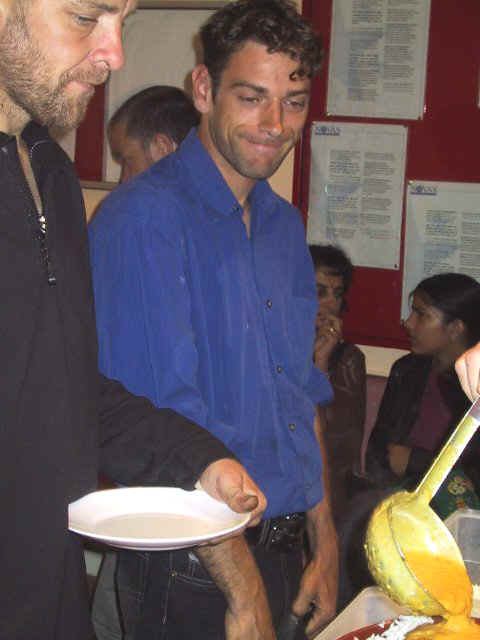 The Dahl is my favorite, I really love you people! Gauranga!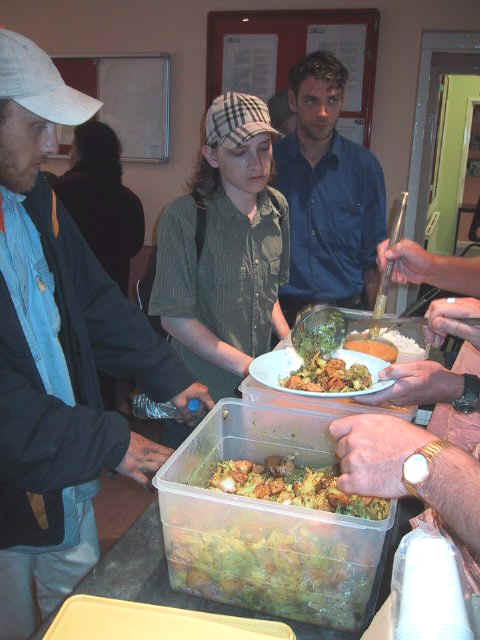 Yes, yes - more of that ... what you call it?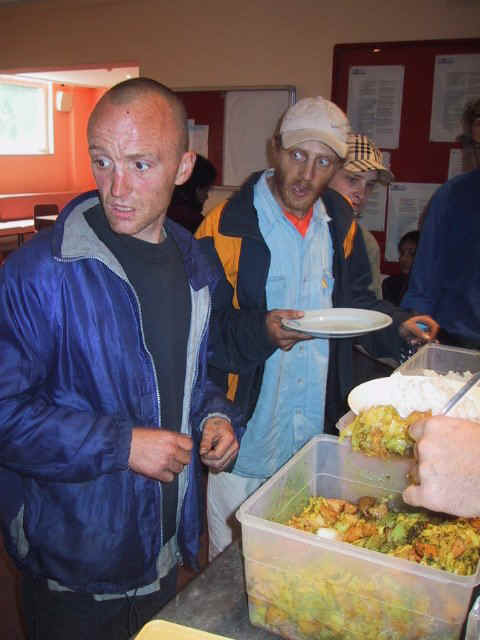 Gauranga! Where are the plates?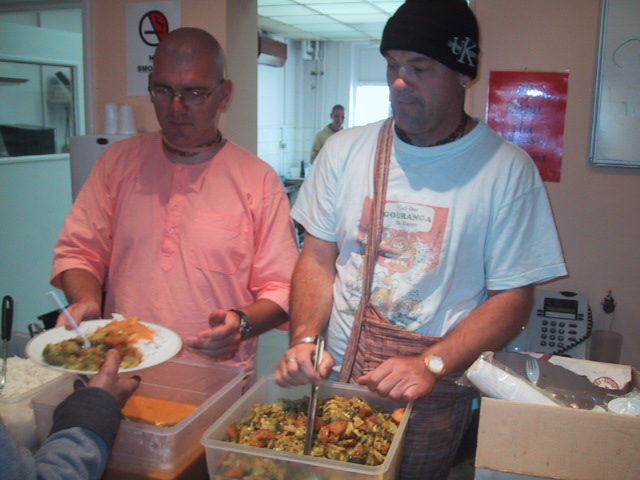 There is no limit to the Lord's mercy.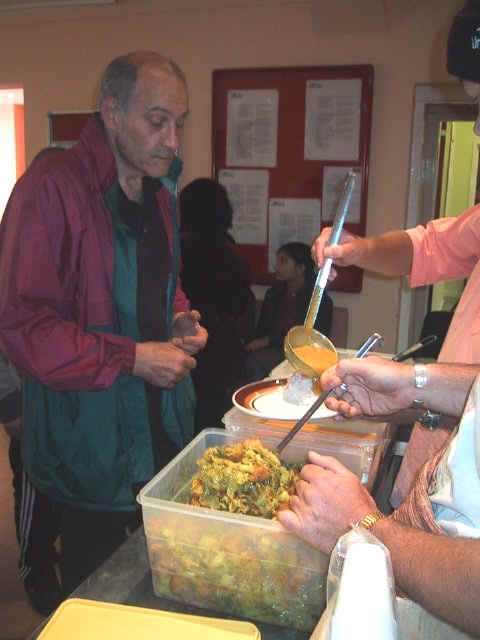 I am addicted to your food!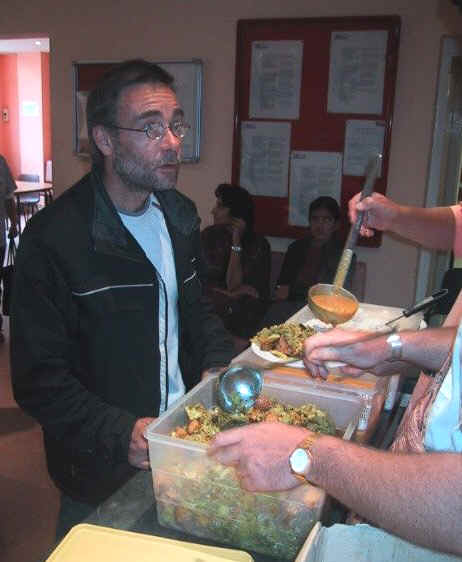 What is that? I don't understand. It is all free? You must be sent by God.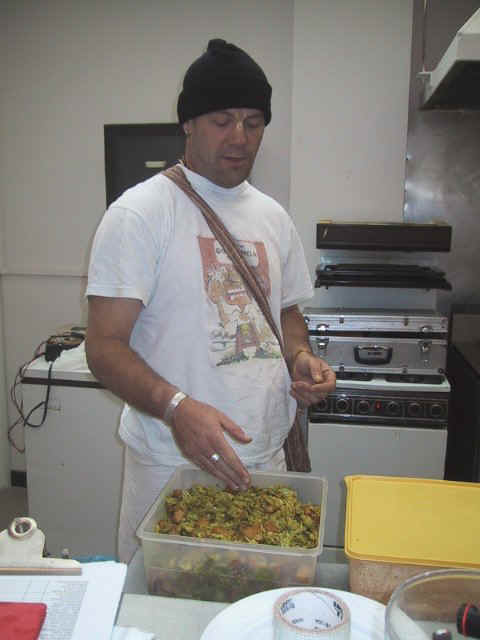 Dvaipayana prabhu: I cooked the subji.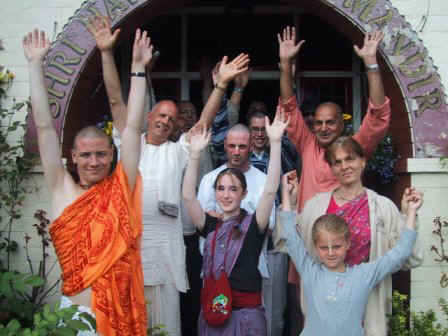 Haribol! from the Leicester devotees.
If you want to know more about the Leicester Yatra and the activities of the devotees there please visit our Photo Gallery.