Nectar 1 from
New Vraja Dhama


Nectar 10 from
New Vraja Dhama


Nectar 11 from
New Vraja Dhama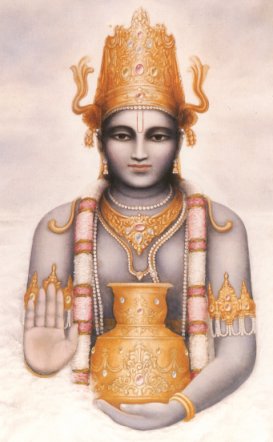 While the demons and demigods churned the ocean of milk, a very wonderful person appeared. He was strongly build; his arms were long, stout, and strong; his neck, which was marked with three lines, resembled a conchshell; his eyes were reddish; and his complexion was blackish. He was very young, he was garlanded with flowers, and his entire body was fully decorated with various ornaments. He was dressed in yellow garments and wore brightly polished earrings made of pearl. The tips of his hair were anointed with oil, and his chest was very broad. His body had all good features, he was stout and strong like a lion, and he was decorated with bangles. In his hand he carried a jug filled to the top with nectar.
This person was Dhanvantari, a plenary portion of a plenary portion of Lord Vishnu. He was very conversant with the science of medicine, and as one of the demigods he was permitted to take a share in sacrifices.
Upon seeing Dhanvantari carrying the jug of nectar, the demons, desiring the jug and its contents, immediately snatched it away by force.


---
Home | Newsletter | Harmonium Lessons | Hot News | Real Audio Page
Directions | Links Page | Japa Meditation | Srila Prabhupada | Newsletter Subscription
Contact | Notice Board | Shop | Radio Indraprastha | Food for Life | Gallery | Kartik Diary
Copyright © 2005-2007 Hare Krishna Centre for Vedic Studies (Leicester)
Dedicated to His Divine Grace A.C. Bhaktivedanta Swami Prabhupada
Registered Charity No 1107565

Hare Krishna Hare Krishna Krishna Krishna Hare Hare ::: Hare Rama Hara Rama Rama Rama Hare Hare