'Every Town and Village' - Front-Line Preaching in the UK
by Sanjeev Mistry
Posted May 19, 2006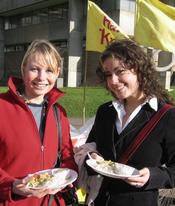 The new "Every Town and Village" newsletter of the Hare Krishna Centre in Leicester has been released. Amongst others it covers topics such as "Food for Life" at the university, prasadam distribution in the City Centre, the launch of "Radio Indraprastha", Krishna consciousness at school, Krishna from door to door, Gaura Purnima 2006, Buddha and Krishna etc.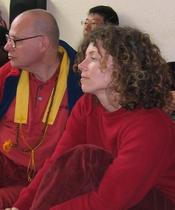 The newsletter with its many photos is a colorful presentation of front-line preaching in the UK. It is available at: ( www.gauranga.org/files/etav_03.PDF).
The newsletter is in PDF format and one needs Acrobat Reader 6.0 or higher to view it. It is a free download from Adobe's website at: (Click Here).



Kazakhstan Updates On the Web
by Madhusudan das
Posted April 27, 2006
Please note that all updates on Kazakhstan will be posted on: http://www.palaceofthesoul.com/
There are current photos and video footage of the police coming to demolish the devotee ashrams.



Croatian Web Portal
by Deva Das
Posted April 20, 2006
The official vaisnava portal of Croatian devotees: http://www.portal.vvz.hr/ was established in February 2005, and is growing day by day... presently about 700-800 devotees from Croatia and wordwide are visiting it regularly with about 130 unique visits daily. Although the site is in Croatian language, devotees from all around the world are invited to visit us and enjoy nice galleries and listen to MP3 lectures (in English) given by visiting preachers.



Rare Vaisnava Books Now Available
by Braja Das
Posted April 4, 2006
Dear All,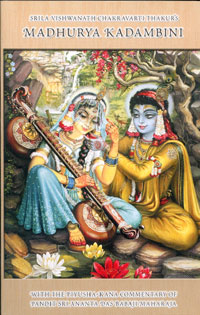 We are pleased to announce that a wide range of Gaudiya Vaishnava books are now available at LoiBazaar.com. Many of these books are rare or difficult to obtain for those living outside of India so we took up the task of making them more easily available for avid readers and serial collectors. At present we are restricting orders to those located in the US and Canada as we've found international shipping to be somewhat unreliable and expensive. The site uses secure payment methods, encrypted data transfers and we do not store credit card information, so even the most cautious shopper is assured of privacy and security.
A notable recent addition is a wonderful new translation and commentary of Sri Vishavanatha Chakravartipada's Madhurya Kadambini. This wonderful treatise on the progressive stages of bhakti is unique in its examination of the psychological states, challenges and wonderful experiences encountered by sadhakas.
Other popular titles include the only complete English translation of Bhakti Rasamrita Sindhu (by David Haberman) and also Sripad Bon Maharaja's version. We have most of OBL Kapoor's books available and several by Satya Narayana Das, including a popular title called "Message to Disciples" wherein Haridas Sastriji offers instructions to his Western followers on daily practices and philosophical considerations.
All visitors from Chakra are welcome to use a coupon for 10% off on their first order -- just enter "CHAKRA" in the coupon field at checkout and hit the Redeem button. We have many more titles awaiting entry into the database so make sure to sign up for our newsletter to receive notification of all major additions and periodic sales.
Regards,
Braja Das
LoiBazaar.com



Interactive Satellite Images: Govardhana, Vrindavan, Mayapura
by Caitanya Candra das (UK - Hungary)
Posted March 26, 2006
Special thanks to Bhakta Google Maps, we can now see satellite images of the Holy Dham's :-)
You can zoom in and out, and drag the images to explore the area: www.vaisnavacalendar.info/sat



Vaishnava Businesses And Services International (vbasi)
by Vaishnava Businesses and Services International
Posted March 14, 2006
Dear Vaishnavas and Friends ~
Hare Krishna. Please accept our humble obeisances. All glories to Sri Guru and Sri Gauranga.
Below you will find information about a new resource called Vaishnava Businesses and Services International. Please contact us with any questions, ideas or concerns about this project. When the VBASI website is up, we will announce it throughout the community. In the meantime, if you or someone you know is involved with devotee businesses or particular service projects, please share this announcement with them. We invite you to participate in this community-building project and we are looking forward to adding your information to the VBASI Registry.
Your servants and friends at
Vaishnava Businesses and Services International
Vaishnava Businesses and Services International
Building Community through Mutual Benefit and Support
Vaishnava Businesses and Services International (VBASI) is a registry for businesses and services of the world-wide Vaishnava community. VBASI assists Vaishnava businesses and services in meeting the community's material and spiritual needs. By maintaining up-to-date profiles and contact information on individuals, organizations and products, VBASI serves as a useful tool for Vaishnavas around the world.
The Four Purposes of VBASI
~ Purpose 1: To create a registry of independent, institutional, local and international Vaishnava businesses and services.
~ Purpose 2: To build and strengthen the Vaishnava community through mutual benefit and support between Vaishnava businesses and services, and the community members these entities seek to serve.
~ Purpose 3: To enhance Vaishnava community and relationships by communicating the needs of the community to entrepreneurs and administrators, and by spreading awareness of available resources throughout the Vaishnava community to its members.
~ Purpose 4: To promote Vaishnava businesses and services as professional and relevant among the Vaishnava community as well as public and private organizations; to distribute the VBASI Registry throughout Vaishnava, Hindu and other related communities.
Representatives of Vaishnava businesses and services are invited to contact VBASI to learn more and to register your organization in the VBASI Registry. Community members looking for a particular project or product are invited to view the Registry or contact the VBASI Staff.
Vaishnava Businesses and Services International
PO Box 2099
Boulder, Colorado 80306, USA
Phone: 303.443.1609
Web Address: www.srinama.com/vbasi [in development; will include the VBASI Registry]
Information: vbasi@srinama.com
New Discussion Group: Click Here [serves as an initial database and networking forum]



Vaishnava Arts Network International (VANI)
by Vaishnava Arts Network International
Posted March 11, 2006
Dear Vaishnavas and Friends ~
Hare Krishna. Please accept our humble obeisances. All glories to Sri Guru and Sri Gauranga.
We offer the Vaishnava Arts Network International to all of you.
VANI Background:
The Vaishnava community is blessed by the presence of many artists who are sharing their realizations with devotees, and Krishna Consciousness with the public, through their art. We have designed VANI according to an enlivening vision of our Vaishnava society as a dynamic network of devotees who continuously manifest interpersonal depth and cultural richness. In this environment, cultural expressions and devotional art forms are natural extensions of our dedication to Guru and Krishna. Our appreciation of each other is also communicated and celebrated through these exchanges.
Presently, many artists find themselves in need of support, facility and engagement within our society as well as throughout the world. When our artists are thus left in solitary and unsupported situations, they suffer, our society suffers and our community's ability to spread Krishna Consciousness suffers. Art is integral to any society and artists are essential members of our society.
It is the mission of VANI to serve the Vaishnava artists, our society and the world. Through the development of a directory, website and active network, VANI aims to help artists and the Sankirtan Movement to benefit from their valuable contribution.
Included below is more information about VANI. Please take the time to consider how you might like to be involved in VANI - as an artist, a teacher, a student, an agent, a benefactor, a volunteer? Our initial endeavor is to begin the VANI Directory, so if you are an artist in any of the fields described below, please contact us as it is our sincere desire to facilitate your service. Emphatically, to build this arts network is a great opportunity to continue to grow as artists and to develop an unlimited presence of Vaishnava art throughout the world.
Please contact us with any questions, ideas or concerns and please join the fresh VANI discussion group to connect with other artists and art patrons. When the VANI website is up, we will announce it broadly. In the meantime, if you or someone you know is an artist or is interested in the arts, please share this announcement with them. We are at your service and ready to add your information to the VANI Directory.
Thank you for your consideration. All glories to your service!
Your servants and friends at
Vaishnava Arts Network International
Note:
- If you aren't sure if your art-service is within the guidelines for being listed in the VANI Directory, please don't hesitate to write or call us. The eight fields mentioned below are general categories only.
- As the VANI website is being developed, please visit our online discussion group at Click Here
Vaishnava Arts Network International
media, writing, crafts, music, dance, theater, design and fine art
The Vaishnava Arts Network International (VANI) is dedicated to preserving the great artistic traditions of the Vaishnava culture. Rooted in the ancient Vedic heritage of India, Vaishnavism is steeped in aesthetic and social refinement, deep devotional expression and a living wisdom that permeates the work of Vaishnava artists around the world.
VANI assists Vaishnava artists, and private and public organizations in the development of fruitful relationships based on the arts. VANI maintains a directory which includes descriptions of Vaishnava art forms, artist profiles and networking information.
The Eight Purposes of the Vaishnava Arts Network International
~ Purpose 1: To create an aesthetically pleasing, culturally coherent and socially relevant presentation of Vaishnavism, Gaudiya Vaishnavism and Bhakti Yoga.
~ Purpose 2: To facilitate Vaishnava artists in the fields of media, writing, crafts, music, dance, theater, design and fine art.
~ Purpose 3: To enhance the devotional experience of Vaishnava artists through fellowship in Vedic arts and creative devotional expressions.
~ Purpose 4: To support Vaishnava artists in their abilities and to encourage them toward personal bests; to encourage professionalism and world-class performance among highly skilled individuals.
~ Purpose 5: To broaden the devotional experience of the Vaishnava community by promoting the value of diligent practice and mastery of artistic skills.
~ Purpose 6: To honor the need and desire of Vaishnava artists to continuously improve their skills and impact; to research, obtain and create instructional materials and to coordinate workshops, practice sessions and rehearsals; to serve Vaishnava artists by coordinating personal visits, individual lessons and workshops with guest artists and masters of the devotional arts.
~ Purpose 7: To maintain a network of individuals who, in service or business, share their skills through regular production of works and personal instruction in various fields.
~ Purpose 8: To promote Vaishnava arts as relevant, enjoyable and valuable among the private sector and publicly funded organizations; to promote Vaisnava art forms and qualified artists throughout devotional and art-based communities.
Patrons of the arts are invited to contact VANI to learn more about the beauty and depth of Vaishnava arts and to meet the dedicated artists.
To arrange to be a teacher or student of, or agent for, Vaishnava media, writing, crafts, music, dance, theater, design or fine art, please contact VANI.
Vaishnava Arts Network International
PO Box 2099
Boulder, Colorado 80306, USA
Phone: 303.443.1609
Web Address: www.srinama.com/vani [in development; will include the VANI Directory]
Information: vani@srinama.com
New Discussion group: Click Here [serves an initial database and networking forum]



'Virtual Mayapur Festival' on Mayapur.com
by Pancaratna ACBSP
Posted March 4, 2006
With pleasure we announce the launch of the "virtual Mayapur festival" on http://www.mayapur.com/.
With the hoisting of the flag the devotees gathered in Mayapur pronounced their sankalpa for the sankirtan yajna of Sri Mayapur International Festival.
Now with the help of a dedicated team including our veteran photo and video team of Padmalochan and Vrindavan Lila along with Ananda Tirtha das and Radha Sundari dasi recording and transcribing classes we will bring you the Mayapur Festival online.
Please visit http://www.mayapur.com/ for the latest news and the Gaura Purnima 2006 Gallery which will be uploaded continuously during the next 15 days.
The festivities have begun..........!
Only 15 days to Gaura Purnima. Please make your offering today at http://www.gaurapurnima.com/
Many Thanks to all Our Donors and Sponsors!



New Website for Russian Campaign Launched
by Romapada Dasa, Bhaktivedanta Manor Dham
Posted February 26, 2006
Dear devotees
A new website has been launched for defending the rights of the Russian devotees.
It was put together by the media team at Bhaktivedanta Manor on behalf of the Defend Russian Hindus Campaign supported by national Hindu organisations from UK, India, Australia, Africa, Canada and America.
Please log on to http://www.defendrussianhindus.org/ to check the latest news on the campaign, download documents, read the latest news stories, and check how you can also protest about the treatment of Russian devotees.
Please help to spread the word.
Your servant
Romapada Dasa
Bhaktivedanta Manor Dham
Ramesh Kallidai
Secretary General
Hindu Forum of Britain
07915 383 103



The Krishna Cast Network
by GOKUL/Sree Chaitanya Gaudiya Math
Posted February 4, 2006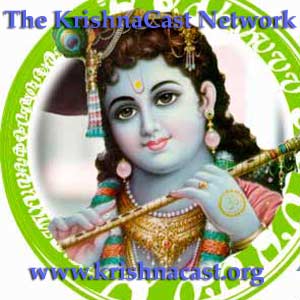 A podcast network featuring Audio content about Devotional Music, Lord Krishna, Spirituality and Hinduism from the Vedic viewpoint.
We have started a new project, The Krishna Cast Network www.krishnacast.org/. It is part of our Spiritual Discourses and Devotional Music section. Every week we will upload new MP3 Audio recordings of Katha and Kirtan which you can download to your computer or iPod and listen. The KrishnaCast Network is a Podcast. For more info visit www.krishnacast.org/.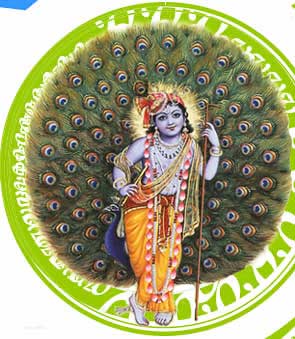 The rss feed for Katha (Discourses) is :
www.krishnacast.org/rss.xml
The rss feed for Kirtan (Devotional Music) is :
www.krishnacast.org/kirtan.xml
- GOKUL/Sree Chaitanya Gaudiya Math
http://www.sreecgmath.org/



New Vrindaban Newsletter for the Month Of January 2006
by Shyam Pandey, Webmaster for Newvrindaban.com
Posted February 1, 2006
Hare Krishna Maharaj / Prabhus,
Click Here for the latest Newsletter of New Vrindaban Community for the month of January 2006




New Vrindavan Audio-video Site
by Nectar Flow
Posted May 12, 2006
We are now launching a new website starting this Nrismha Caturdasi in New Vrindavan that will feature mp3 podcasts and mp4 videocast of classes and other activities. Please visit this week as the Festival of Inspiration is happening and is featuring many elevated devotees.
http://www.nectarflow.com/



Dear Friends
by Padmapani das
Posted April 24, 2006
May I please humbly invite you all to participate in "The Prabhupada Connection" website. We have an ever-expanding international readership which is always thirsty for Prabhupada nectar. There are so many stories out there waiting to be heard. More than 80% of our viewers are learning about Srila Prabhupada and the Hare Krishna movement for the very first time, so it's an exciting opportunity to share the bliss and love of Krishna Consciousness as we have all experienced it, by Prabhupada's grace. There are no politics, nor any form of one-upmanship on the pages of "The Prabhupada Connection." Everyone is welcome and equal here. The older devotees have a platform through which to pass on their memories and realizations of Srila Prabhupada; and the younger devotees and newcomers can write or draw offerings to Srila Prabhupada, which will be read and seen around the world. The basic idea is to share our joy in devotional service, so that everyone can see how powerful and magnanimous is our beloved Founder-Acarya, Srila Prabhupada, who struggled so hard to help us all. There are many websites for debate and discussions, but "The Prabhupada Connection" has been created as a simple offering to His Divine Grace, like a small lamp offered to the sun. Of course, it can never be enough. But at least we can show our appreciation and love for Srila Prabhupada, and by doing so, we can humbly demonstrate our desire to co-operate and come together, as he so desired. Thank you very much.
All glories to Srila Prabhupada.
All glories to the assembled devotees.
www.prabhupadaconnect.com/



Vaisnava Reminder Update
by Oleh Demchenko
Posted April 12, 2006
New version 0.55a of Vaisnava Reminder is ready for use. Here you may see what changed:
Added multi-language support (Russian version also available).
Added the descriptions of Vaisnava events and Ekadasis.
Corrected calendar calculations.
Fixed bugs which showned incorrect Var in panchang and Weekday at Diary page.
Added a pick-date popup mini-calendar on To-do and Events record editor.
In Export function added a pick-date for setting beginning and ending of the export range.
See more details and download new version at vreminder.gauranga.in



How I Joined Srila Prabhupada's Mission.... By You!
by Karunamayi devi dasi
Posted April 2, 2006
We have created a wonderful international community project glorifying Srila Prabhupada and the offering of your story is an integral part of it.
A blog (online diary) has been created at http://www.how-i-joined.blogspot.com/ with the intention of publishing your story of how you joined, written by you. The e mail address you will send your story to is how.i.joined@gmail.com with one attached photo (see below).
Every last devotee who surrendered to Srila Prabhupada is very important to him and your story is a wonderful tribute to your dedication to the Sankirtan movement. Everyone has been a part of the spreading of Lord Caitanya's mission. Please share your story with us.
Here are a few suggestions to help start putting into words your experience:
what year did you join, which city were you in and how old were you?
what did you friends and family think?
did you join alone? sibling, spouse, kids, friends...
where you first met the devotees or got a book: street, friend, family, concert, net, harinama, festival, airport, library, college, university, parking lot, temple...
what was your first thought upon seeing/meeting the devotees?
Who gave you your first book or told you about Krishna.
Which temple you joined and served in and what was your primary service(s).
Did you join as a Grhasta or were you encouraged to join the brahmacari/brahmacarini asrama.
what piqued your interest: philosophy, music, blissfull devotees, halava!, prasadam, the smells, getting "high", the lifestyle.
who is your spiritual master or aspiring spiritual master.
special mercy you received.
And any other details you think would be a nice addition.
These are only suggestions to help you create your story, it isn't a question and answer format. Please run your story through a spell checker before sending and feel free to send one photo, which will be posted with your story, that holds some meaning to you: initiation photo, you doing a service, you with your Gurudeva, you with your family, etc....
Please try to keep your story under 1000 words. Please forward this to e mail to any Vaisnava e groups, e lists, forums, etc... that you belong to and to any other devotees who you think would love being a part of this project.
Thank you and I look forward to reading the nectar.



2006 Festival Of Inspiration Website
by Shyam Pandey
Posted March 16, 2006
Hare Krishna,
The website for 2006 Festival of Inspiration is Festivalofinspiration.com
Please visit the site for details about the festival and also details of presentation and seminars.
ys
Shyam Pandey
Webmaster for Festivalofinspiration.com



Radio Indraprastha - Digital Internet Radio In the Uk
by Sanjeev Mistry
Posted March 12, 2006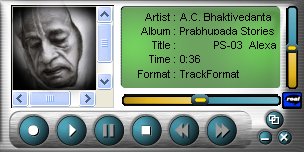 The Hare Krishna Centre in Leicester UK has launched its Digital Internet Station, Radio Indraprastha. The station broadcasts 24 hours 365 days a year and is available at: www.gauranga.org/indraprastha.htm.
Broadcasts consist mainly of Krishna Bhajans and Krishna Katha. It is a tribute to the worldwide audience of the Centre's 'Real Audio Page', which attracted over half a million listeners in the past few years.
The station is available for advertising to fund itself. Potential advertisers are requested to get in touch via the following e-mail address: sanjeev_mistry@yahoo.com.



Prints Of Jadurani Artwork Available
by Nityananda das
Posted March 11, 2006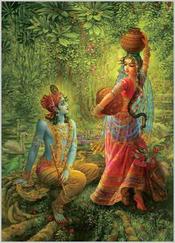 The spiritual world comes alive with the transcendental art of Jadurani dasi (also known as Syamarani dasi). Her art is gaining more and more popularity. Featured on the cover of the October issue of Sedona Journal, a leading new age magazine, was her work entitled Venu Gita. It features Sri Krishna playing His flute and attracting Srimati Radharani, the gopis and all the other residents of Sri Vrindavana.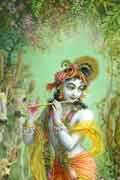 Jadurani prabhu has been painting Krishna art for almost 40 years — first under the guidance of ISKCON Founder Acharya Srila Prabhupada (A. C. Bhaktivedanta Swami) and now under the guidance of Srila B.V. Narayana Maharaja. Both of these great acharyas have guided her in every aspect of her painting; from posing for the personalities in the spiritual world to disclosing the fine details of what the envirornment there looks like.
In addition to posters, her work is also now available in giclée format. Giclée is a new technology that can reproduce original art so well that one often can't tell which is the original. Proceeds of the sale of the art go to the construction of a wonderful temple in Sri Navadwipa Dham. Devotees are invited to visit her website at www.bhaktiart.net/?page=index and relish the transcendental experience of viewing four decades of paintings which are direct reflections of Lord Sri Krishna and His loving associates.
Jayashri — Krishna Pleading, 30" X 40" (76cm X 102cm)



Part 2 Of the Paintings From India Before Modern Times
by Shiva
Posted February 26, 2006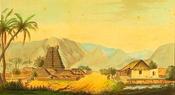 In August 2005 Chakra.org posted this article from me. I've made available part 2 of the paintings from India before modern times. Please note that in order to see the large versions of the paintings that when you click on the second thumb you need to make sure to click on the bottom middle part of the thumb, otherwise clicking anywhere else on that thumb will take you back to the small thumbs. You can access part 2 at: varnashrama-maui.com/paintings.html



Kusakratha Memorial Library Website
by Radha Caran das and Dina Sharana das
Posted February 2, 2006
Dear Vaisnavas and Vaisnavis:
Please accept our respects. Glories to Sri Guru and Sri Gauranga. Last Fall, Sriman Kusakratha dasa, a disciple of His Divine Grace Srila Prabhupada left his body in Vrndavana. He was known and adored by many for his translating dozens of books by the Six Gosvamis and other Vaisnava Acaryas into English. His output was hard to believe. He was greatly inspired by the example and instruction of Srila Prabhupada.
In his honor a website is now open, the "Kusakratha Memorial Library Website". In his last will he stated his books should be distributed for free, and there you will find free downloads, beginning with books not available anywhere else in the English language. Or hard to find works anyway!
We will be adding more and more of his translation work as time goes on. There's a link to receive notification whenever a new book is added. We were honored by his company, and continue to be honored in his absence by these priceless "tears of Caitanya Mahaprabhu", as presented by Srila Bhaktivinoda, the Six Gosvamis, Srila Prabhodananda Sarasvati, and many others.
Kusakratha knew well that in time, elaborate and classy presentations of all these books would be done, some many, many years down the road. Therefore, to fill the gap while waiting for these, he worked very hard to present translations in simple but accurate format for the pleasure of the Vaisnava community.
Your aspiring servants, and last caretakers of Kusakratha prabhu's "Krishna Institute".