Vaishnava Arts Network International (VANI)
by Vaishnava Arts Network International
Posted March 11, 2006
Dear Vaishnavas and Friends ~
Hare Krishna. Please accept our humble obeisances. All glories to Sri Guru and Sri Gauranga.
We offer the Vaishnava Arts Network International to all of you.
VANI Background:
The Vaishnava community is blessed by the presence of many artists who are sharing their realizations with devotees, and Krishna Consciousness with the public, through their art. We have designed VANI according to an enlivening vision of our Vaishnava society as a dynamic network of devotees who continuously manifest interpersonal depth and cultural richness. In this environment, cultural expressions and devotional art forms are natural extensions of our dedication to Guru and Krishna. Our appreciation of each other is also communicated and celebrated through these exchanges.
Presently, many artists find themselves in need of support, facility and engagement within our society as well as throughout the world. When our artists are thus left in solitary and unsupported situations, they suffer, our society suffers and our community's ability to spread Krishna Consciousness suffers. Art is integral to any society and artists are essential members of our society.
It is the mission of VANI to serve the Vaishnava artists, our society and the world. Through the development of a directory, website and active network, VANI aims to help artists and the Sankirtan Movement to benefit from their valuable contribution.
Included below is more information about VANI. Please take the time to consider how you might like to be involved in VANI - as an artist, a teacher, a student, an agent, a benefactor, a volunteer? Our initial endeavor is to begin the VANI Directory, so if you are an artist in any of the fields described below, please contact us as it is our sincere desire to facilitate your service. Emphatically, to build this arts network is a great opportunity to continue to grow as artists and to develop an unlimited presence of Vaishnava art throughout the world.
Please contact us with any questions, ideas or concerns and please join the fresh VANI discussion group to connect with other artists and art patrons. When the VANI website is up, we will announce it broadly. In the meantime, if you or someone you know is an artist or is interested in the arts, please share this announcement with them. We are at your service and ready to add your information to the VANI Directory.
Thank you for your consideration. All glories to your service!
Your servants and friends at
Vaishnava Arts Network International
Note:
- If you aren't sure if your art-service is within the guidelines for being listed in the VANI Directory, please don't hesitate to write or call us. The eight fields mentioned below are general categories only.
- As the VANI website is being developed, please visit our online discussion group at Click Here
Vaishnava Arts Network International
media, writing, crafts, music, dance, theater, design and fine art
The Vaishnava Arts Network International (VANI) is dedicated to preserving the great artistic traditions of the Vaishnava culture. Rooted in the ancient Vedic heritage of India, Vaishnavism is steeped in aesthetic and social refinement, deep devotional expression and a living wisdom that permeates the work of Vaishnava artists around the world.
VANI assists Vaishnava artists, and private and public organizations in the development of fruitful relationships based on the arts. VANI maintains a directory which includes descriptions of Vaishnava art forms, artist profiles and networking information.
The Eight Purposes of the Vaishnava Arts Network International
~ Purpose 1: To create an aesthetically pleasing, culturally coherent and socially relevant presentation of Vaishnavism, Gaudiya Vaishnavism and Bhakti Yoga.
~ Purpose 2: To facilitate Vaishnava artists in the fields of media, writing, crafts, music, dance, theater, design and fine art.
~ Purpose 3: To enhance the devotional experience of Vaishnava artists through fellowship in Vedic arts and creative devotional expressions.
~ Purpose 4: To support Vaishnava artists in their abilities and to encourage them toward personal bests; to encourage professionalism and world-class performance among highly skilled individuals.
~ Purpose 5: To broaden the devotional experience of the Vaishnava community by promoting the value of diligent practice and mastery of artistic skills.
~ Purpose 6: To honor the need and desire of Vaishnava artists to continuously improve their skills and impact; to research, obtain and create instructional materials and to coordinate workshops, practice sessions and rehearsals; to serve Vaishnava artists by coordinating personal visits, individual lessons and workshops with guest artists and masters of the devotional arts.
~ Purpose 7: To maintain a network of individuals who, in service or business, share their skills through regular production of works and personal instruction in various fields.
~ Purpose 8: To promote Vaishnava arts as relevant, enjoyable and valuable among the private sector and publicly funded organizations; to promote Vaisnava art forms and qualified artists throughout devotional and art-based communities.
Patrons of the arts are invited to contact VANI to learn more about the beauty and depth of Vaishnava arts and to meet the dedicated artists.
To arrange to be a teacher or student of, or agent for, Vaishnava media, writing, crafts, music, dance, theater, design or fine art, please contact VANI.
Vaishnava Arts Network International
PO Box 2099
Boulder, Colorado 80306, USA
Phone: 303.443.1609
Web Address: www.srinama.com/vani [in development; will include the VANI Directory]
Information: vani@srinama.com
New Discussion group: Click Here [serves an initial database and networking forum]



'Virtual Mayapur Festival' on Mayapur.com
by Pancaratna ACBSP
Posted March 4, 2006
With pleasure we announce the launch of the "virtual Mayapur festival" on http://www.mayapur.com/.
With the hoisting of the flag the devotees gathered in Mayapur pronounced their sankalpa for the sankirtan yajna of Sri Mayapur International Festival.
Now with the help of a dedicated team including our veteran photo and video team of Padmalochan and Vrindavan Lila along with Ananda Tirtha das and Radha Sundari dasi recording and transcribing classes we will bring you the Mayapur Festival online.
Please visit http://www.mayapur.com/ for the latest news and the Gaura Purnima 2006 Gallery which will be uploaded continuously during the next 15 days.
The festivities have begun..........!
Only 15 days to Gaura Purnima. Please make your offering today at http://www.gaurapurnima.com/
Many Thanks to all Our Donors and Sponsors!



New Website for Russian Campaign Launched
by Romapada Dasa, Bhaktivedanta Manor Dham
Posted February 26, 2006
Dear devotees
A new website has been launched for defending the rights of the Russian devotees.
It was put together by the media team at Bhaktivedanta Manor on behalf of the Defend Russian Hindus Campaign supported by national Hindu organisations from UK, India, Australia, Africa, Canada and America.
Please log on to http://www.defendrussianhindus.org/ to check the latest news on the campaign, download documents, read the latest news stories, and check how you can also protest about the treatment of Russian devotees.
Please help to spread the word.
Your servant
Romapada Dasa
Bhaktivedanta Manor Dham
Ramesh Kallidai
Secretary General
Hindu Forum of Britain
07915 383 103



The Krishna Cast Network
by GOKUL/Sree Chaitanya Gaudiya Math
Posted February 4, 2006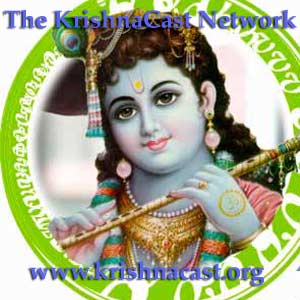 A podcast network featuring Audio content about Devotional Music, Lord Krishna, Spirituality and Hinduism from the Vedic viewpoint.
We have started a new project, The Krishna Cast Network www.krishnacast.org/. It is part of our Spiritual Discourses and Devotional Music section. Every week we will upload new MP3 Audio recordings of Katha and Kirtan which you can download to your computer or iPod and listen. The KrishnaCast Network is a Podcast. For more info visit www.krishnacast.org/.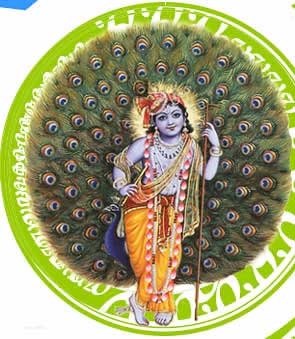 The rss feed for Katha (Discourses) is :
www.krishnacast.org/rss.xml
The rss feed for Kirtan (Devotional Music) is :
www.krishnacast.org/kirtan.xml
- GOKUL/Sree Chaitanya Gaudiya Math
http://www.sreecgmath.org/



New Vrindaban Newsletter for the Month Of January 2006
by Shyam Pandey, Webmaster for Newvrindaban.com
Posted February 1, 2006
Hare Krishna Maharaj / Prabhus,
Click Here for the latest Newsletter of New Vrindaban Community for the month of January 2006



Vaisnavi.com Is Back Online
by Vaisnavi.com
Posted January 20, 2006
We are pleased to announce that http://www.vaisnavi.com/ has returned. Although the site never 'technically' went offline - it did go unattended for a long period of time, and many of our regular visitors failed to return, believing the site to be 'dead'.
Now, after many months effort by our new team, the site has been fully revamped and contains all the 'old' articles plus new ones, and a new interactive style for visitors to leave comments on articles. Visitors may also register as authors and submit their own articles for publication.
For those that have not visited the site in that past, http://www.vaisnavi.com/ is a non-sectarian, resource, information and news site. We have articles covering a range of topics such as womens' issues, families, children, health and home etc
This site is not just for Vaisnavis, either - many male devotees enjoy reading too!
Please visit and make use of this wonderful site. (Our 'sister' website in Spanish is also online at: http://www.vaisnavi.net/ )
Thank you,
Team at vaisnavi.com



The New 'Every Town & Village' Newsletter is Out
by Sanjeev Mistry
Posted January 7, 2006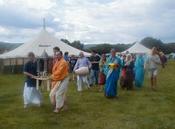 The 2nd edition of 'Every Town & Village' has been released. The newsletter features amongst others an inventive 'Food for Life' prasadam distribution programme at the University and City Centre, the annual Krishna Camp,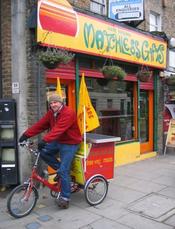 the new 'Matchless Gifts' Centre in the heart of London and the long awaited release of volume two and three of the 'Eternal Bliss' CD album. The e-zine makes interesting reading and can be viewed or downloaded at: www.gauranga.org/files/etav_02.PDF



Srila Prabhupada's Books On Audio
by Amal Bhakta Dasa, Los Angeles, CA
Posted December 27, 2005
Devotees interested in listening to Srila Prabhupada's books may now click on Amal Bhakta Dasa's website -- http://www.amalbhakta.com/ -- and find out what he is presently offering in the MP3 format. There are also a few listings of Srila Bhaktivinode Thakura's books, such as Harinama Cintamani. In case you haven't read all the books listed on the site, each title is linked to a comprehensive description of it.
You can also find out which distributors are carrying these audio books that were originally released years ago as "Books On Tape." They all have beautiful Indian background music, and those which are dramatic in nature, also contain realistic sound effects and numerous voice characterizations to more deeply absorb you in the stories.
Amal Bhakta dasa reports that many ISKCON spiritual masters have mentioned to him that they listen to some of these recorded books daily, as a necessary part of their devotional sadhana. Many other devotees, who do much traveling, find the recordings indispensible for remaining Krishna conscious while surrounded by so many materialistic allurements.
If you have never listened to Amal Bhakta Dasa's book recordings, you can freely sample the Sri Caitanya-caritamrta translations on the website http://www.prabhupadavani.org/, and also find quite an array of Srila Prabhupada's recorded lectures there.



New Talavan Multimedia & Web Preaching
by ISKCON New Talavan
Posted December 23, 2005
You may not have heard from us for awhile, but that's because we've been so busy. Not only are we close to repairing the damage from Hurricane Katrina www.newtalavana.org/katrina.htm, but we also have some exciting developments to report in the area of multimedia and web-based preaching.
Weblogs and Podcasts
The hottest area on the Internet today is weblogs, or 'blogs,' and podcasts, which are downloadable audio or video programs playable on a computer or portable device such as an Apple iPod. Blogs are extremely popular, and podcasts are one of the best ways to reach the younger, 'wired' online generation. We now operate a multimedia weblog/podcast:
Prabhupada-vani
The Prabhupada-vani weblog prabhupada-vani.blogspot.com/ features a daily different recorded bhajan, kirtan or class by Srila Prabhupada. There is also a podcast feed feeds.feedburner.com/prabhupada-vani for downloading the MP3 audio file associated with each blog entry. The lyrics and purport are included in both written and recorded form. The Prabhupada-vani podcast is available on Apple iTunes itunes.com/, the most popular podcast site.
eBooks and Music Downloads
I frequently get requests for my books and CDs, all of which are currently out of print. Rather than reprint all the volumes and discs, which would be expensive, I have uploaded them. You can download the complete books and samples of my music CDs from the New Talavan website newtalavana.org/ebooks. There are also links to the online music stores where you can purchase and download the complete CDs.

Sacred Cow Productions
Our New Talavan preaching project, Sacred Cow Productions, now features a complete audio, video, multimedia and Internet production suite with excellent facility for state-of-the art preaching. Project proposals from devotees who want to expand the good reputation of Srila Prabhupada's movement through the arts are encouraged. Our current productions available include:

We look forward to continuing and expanding multimedia and web-based preaching at New Talavan. Please feel free to contact us at any time with your suggestions and comments.



Next Generation Vaisnava Calendar
by Sita-pati das
Posted December 7, 2005

As we heard at the end of October, the venerable VCal program that has served ISKCON so well is being retired. The Next Generation Vaisnava Calendar is now under development, and devotees with skills in IT, especially in programming, are invited to participate in the development.

On the one hand: Worldwide, Information Technology is increasingly prevalent and, like the rest of the population, many devotees today work with computers, and have skills and talents in this area.

On the other hand: Information Technology is the latest development of the Western drive for efficiency that Srila Prabhupada so admired (the lame man and the blind man). A recent study revealed that 2 year olds in the US spend as much time looking at a screen than they do playing outside, and more time than reading. People in the developed countries are increasingly eschewing print media for online media. The US Congress is getting set to pass legislation to get broadband Internet into the 66% of US households that still don't have it. A project to provide an initial 15 million $100 laptops with networking capability to under-developed nations will start rolling out in Q4 of 2006.

Regardless of our understanding of the superiority and desirability of a simple, subsistence lifestyle, we can't have our heads buried in the sand. The printing press will never disappear, but the Internet is increasingly becoming the brhad-mrdanga of the 21st century.

Putting these two things together, we need to offer engagement to devotees where they can use the skills they are having to learn in order to get jobs to support themselves and their families, or are increasingly arriving already in possession of. Programmers, graphic designers, infrastructure and project managers, can all utilize their skills and abilities in the service of the sankirtan mission. We need to adopt modern technologies and place them in the service of Sri Krishna Sankirtan - let us leave nothing un-utilized.

A worldwide organization such as ISKCON needs a significant IT capability in order to leverage the efficiency-increasing power of IT in communications, data storage and retrieval, calendar calculation, content delivery, and other areas. At the same time, something like a centralized corporate IT department is an impractical model.

The open source development model utilized by the GNU/Linux community more closely maps to the principles and values that ISKCON operates under, and looks like a more realistic guide for a practical implementation.

Whether you are familiar with this model or not, if you are a devotee who has abilities in information technology and would like to get involved in leveraging these to add value to the sankirtan mission, then get in touch. Washing pots, sweeping floors and cutting vegetables are all great services and clean the heart. At the same time, in addition to this type of service at your local temple or preaching center, you can also engage your professional abilities in service, making a significant contribution to the mission, and purifying that aspect of your life. The Next Generation Vaisnava Calendar is being developed using the open source development model. The GBC Calendar Committee has sponsored the creation of a coordination mailing list for this project. Send a blank email to vcal-devel-subscribe@worldsankirtan.net to join it.

Manasa deho geho yo kichu mor - apilu tuya pade nanda kishore

With whatever you have - mind, body, wealth, family, worship the lotus feet of the son of Nanda Maharaja (Bhaktivinode Thakura)

yat karosi yad asnasi yaj juhosi dadasi yat yat tapasyasi kaunteya tat kurusva mad arpanam

Whatever you do, whatever you eat, whatever you offer or give away, whatever austerity you perform - do that, O son of Kunti, as an offering to Me. (Bhagavad-gita 9.26)



Kartik Issue of GOKUL Magazine Comes Out
by GOKUL (Global Organisation of Krishnachaitanya's Universal Love)
Posted November 30, 2005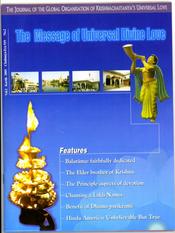 GOKUL (Global Organisation of Krishnachaitanya's Universal Love) has published a new issue of its magazine The Message of Universal Divine Love.

This is a Balarama Tattva special issue. The highlights of issue are:

a.. Sri Ekadasi by Srila Jagadananda Pandit

b.. Balarama: faithfully dedicated by Srila Bhakti Raksaka Sridhara Deva Gosvami Maharaja

c.. Baladeva - The Elder brother of Krishna by Srila Bhaktikeval Audulomi Maharäja

d.. The Principal Limbs of Devotional Service by Srila Bhakti Dayita Madhava Gosvami Maharaja

e.. Chanting a Lakh Names by Srila Bhakti Promode Puri Gosvami Maharaja

f.. How to attain Devotion? by Srila B.V. Puri Maharaj

g.. Benefit of Dhäma-parikramä by Srila B.B. Tirtha Goswami Maharaj

h.. Become Rich Beyond Expectation

i.. Hindu America: Unbelievable But True

and many more stories............

To order, please visit BookStore

or write to: gokul@sreecgmath.org
Phone: +91 - 93508 - 89966



Care for Cows Mailing List
by R. Jai Simman
Posted November 12, 2005

Recently, H.G. Kurma Rupa Prabhu had posted an article for the Care for Cows Project in Vrndavana, mentioning the situation with abandoned cows and how the project is helping them. He had also indicated the presently needed urgency to acquire more land for their protection.

I am happy to announce that the Care for Cows Mailing List has been activated to share ideas and information in this regard. Devotees and well-wishers wanting to join this mailing list are welcome to sign up at groups.yahoo.com/group/CareforCows

We would like to encourage everyone to contribute towards this mailing list and to disseminate this information to as many people as possible who may be interested in cow protection or goraksha. Land is most urgently needed and as we are aware, land acquisition in Vrndavana is not an easy task, unless influential and well-to-do persons can help. We welcome any contacts in this regard.

Hare Krishna.

Your servant,
R. Jai Simman,
Mailing List Moderator,
Jakarta, Indonesia .





Radio Indraprastha - Digital Internet Radio In the UK
by Sanjeev Mistry
Posted March 12, 2006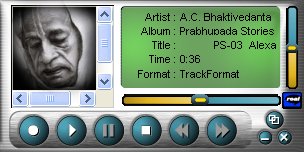 The Hare Krishna Centre in Leicester UK has launched its Digital Internet Station, Radio Indraprastha. The station broadcasts 24 hours 365 days a year and is available at: www.gauranga.org/indraprastha.htm.
Broadcasts consist mainly of Krishna Bhajans and Krishna Katha. It is a tribute to the worldwide audience of the Centre's 'Real Audio Page', which attracted over half a million listeners in the past few years.
The station is available for advertising to fund itself. Potential advertisers are requested to get in touch via the following e-mail address: sanjeev_mistry@yahoo.com.



Prints Of Jadurani Artwork Available
by Nityananda das
Posted March 11, 2006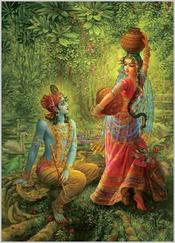 The spiritual world comes alive with the transcendental art of Jadurani dasi (also known as Syamarani dasi). Her art is gaining more and more popularity. Featured on the cover of the October issue of Sedona Journal, a leading new age magazine, was her work entitled Venu Gita. It features Sri Krishna playing His flute and attracting Srimati Radharani, the gopis and all the other residents of Sri Vrindavana.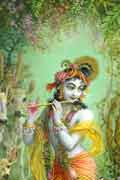 Jadurani prabhu has been painting Krishna art for almost 40 years — first under the guidance of ISKCON Founder Acharya Srila Prabhupada (A. C. Bhaktivedanta Swami) and now under the guidance of Srila B.V. Narayana Maharaja. Both of these great acharyas have guided her in every aspect of her painting; from posing for the personalities in the spiritual world to disclosing the fine details of what the envirornment there looks like.
In addition to posters, her work is also now available in giclée format. Giclée is a new technology that can reproduce original art so well that one often can't tell which is the original. Proceeds of the sale of the art go to the construction of a wonderful temple in Sri Navadwipa Dham. Devotees are invited to visit her website at www.bhaktiart.net/?page=index and relish the transcendental experience of viewing four decades of paintings which are direct reflections of Lord Sri Krishna and His loving associates.
Jayashri — Krishna Pleading, 30" X 40" (76cm X 102cm)



Part 2 Of the Paintings From India Before Modern Times
by Shiva
Posted February 26, 2006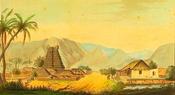 In August 2005 Chakra.org posted this article from me. I've made available part 2 of the paintings from India before modern times. Please note that in order to see the large versions of the paintings that when you click on the second thumb you need to make sure to click on the bottom middle part of the thumb, otherwise clicking anywhere else on that thumb will take you back to the small thumbs. You can access part 2 at: varnashrama-maui.com/paintings.html



Kusakratha Memorial Library Website
by Radha Caran das and Dina Sharana das
Posted February 2, 2006
Dear Vaisnavas and Vaisnavis:
Please accept our respects. Glories to Sri Guru and Sri Gauranga. Last Fall, Sriman Kusakratha dasa, a disciple of His Divine Grace Srila Prabhupada left his body in Vrndavana. He was known and adored by many for his translating dozens of books by the Six Gosvamis and other Vaisnava Acaryas into English. His output was hard to believe. He was greatly inspired by the example and instruction of Srila Prabhupada.
In his honor a website is now open, the "Kusakratha Memorial Library Website". In his last will he stated his books should be distributed for free, and there you will find free downloads, beginning with books not available anywhere else in the English language. Or hard to find works anyway!
We will be adding more and more of his translation work as time goes on. There's a link to receive notification whenever a new book is added. We were honored by his company, and continue to be honored in his absence by these priceless "tears of Caitanya Mahaprabhu", as presented by Srila Bhaktivinoda, the Six Gosvamis, Srila Prabhodananda Sarasvati, and many others.
Kusakratha knew well that in time, elaborate and classy presentations of all these books would be done, some many, many years down the road. Therefore, to fill the gap while waiting for these, he worked very hard to present translations in simple but accurate format for the pleasure of the Vaisnava community.
Your aspiring servants, and last caretakers of Kusakratha prabhu's "Krishna Institute".
Kusakratha Memorial Library Website



Video Of Srila Bhaktisiddhanta Swami
by Bhaktiratna Sadhu Swami
Posted January 26, 2006
The rarest video of our Parama Guru His Divine Grace Shrila Bhaktisiddhanta Sarasvati Thakura Prabhupada is now available due to our greatest good fortune. He is preaching about the glories of the most holy Vedic Scriptures in Shri Chaitanya Math (Main Gate and Dome shown in the video), Shri Mayapura Dhama, at the lotus feet of His beloved Deities of Shri Gauranga and Shri Shri Gandharvika Giridhari, Who are shown in the first part of the video. There is no audio in this video. Please notice how beautifully, soberly and compassionately Shri Shrila Prabhupada moves his long hands while speaking to teach the conditioned souls.
Click here to play in your default media player (winamp does not play)
Right-click this link to download



New Vrindaban Community New Website
by Shyam Pandey, Webmaster for newvrindaban.com
Posted January 9, 2006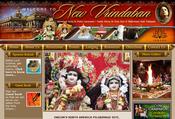 For the pleasure of worldwide vaishnava congregation, New Vrindaban Community, Moundsville, WV - ISKCON'S NORTH AMERICAN PILGRIMAGE SITE has revamped their website at http://www.newvrindaban.com/ for the worldwide devotees.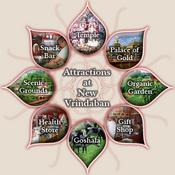 The new website has many features such as:
Gallery
Discussion Board
Newsletter
Book Download
Guest Book
Directions
Lodging Booking etc.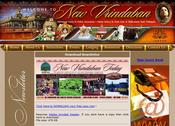 We are trying our best to put new pictures taken every week (now) and may be daily (later on) int he gallery section.
Please take out a few minutes from your busy schedule and visit newvrindaban.com and explore the beautiful temple of Their Lordship Sri Sri Radha Vrindaban Chandra.
Be there! Get blissed!
Please feel free to give your suggestions, criticism and feedback.



New Book Distribution Pictures And Videos On San Diego Book Distro Website
by Bhakta John C
Posted January 2, 2006
Please visit the San Diego Book Distro Web Site to see new book distribution marathon videos and pictures.
bookdistribution.ageofkali.com



Free Spiritual Video Library
by Bhushan Nityananda dasa
Posted December 24, 2005
We would like to announce the free spiritual Web Video Library at gaurangapada.org/ for the pleasure of the devotees, for the online viewing and download of full-length video discourses of Shrila Bhaktiratna Sadhu Swami from Shri Jagannatha Puri Dhama on Shri Chaitanya Bhagavata and other scriptures of our Acharyas with the recitation and explanation of the original Bengali verses and commentaries of Shrila Bhaktisiddhanta Sarasvati Thakura Prabhupada. New Videos will be added almost daily including Puri Dhama Parikrama videos so kindly bookmark this site.



FFL Friends Newsletter Has Moved to a New Service
by Paul Turner (Priya), Director, Food for Life Global
Posted December 9, 2005
We have recently moved our Newsletter to a new eNewsletter service called ( aWeber.com). We feel the new service will benefit both you and Food for Life Global.
Due to the proliferation of unsolicited email, ISPs are now demanding that all emails in any new mailing lists be confirmed.
aWeber has asked us to do this, so can you kindly confirm your subscription to the Food for Life Friends Newsletter.
You can always unsubscribe at any time.
---
CONFIRM BY VISITING THE LINK BELOW:
Click Here

Click the link above to give us permission to send you information. It's fast and easy!
---
If you do not want to subscribe, simply ignore this message.



Lord Krishna's Hills Being Destroyed By the Govt. Of Rajasthan
by Raghav dasa
Posted December 7, 2005
It would be shocking to know that the party which gained political prominence in the name of Ram Janmabhoomi, is letting the brutal destruction of the land of Krishna go unrelentlessly.
To view the online version (with pictures)of the same kindly visit: Click Here
You may send in your feedback at: brajrakshakdal@gmail.com
Please do circulate this mail to all your friends, relatives and well wishers interested in preserving and protecting the Krishna land.
Note: To get the print version of the paper or a VCD covering all these aspects, kindly contact:
In India:
Braj Rakshak Dal, C-6/28, SDA, Hauz Khas, New Delhi -16
Phone:011-26566800
Email: brajrakshakdal@gmail.com
http://www.brajrakshakdal.org/
In USA:
Brajdham Sewa Samiti
7107, Star Hill Court
Columbia, MD 21046, USA
Tel: 410-290-8608
Email: radhakrsna1@hotmail.com
- Raghav raghav.mittal@ypri.org



Friends Of the BBT Newsletter Nov/dec Issue
by Caitanya Dasi (Friends of the BBT)
Posted December 5, 2005
Friends of the BBT Newsletter - Nov/Dec issue
Visit fob.krishna.com/friends/nov2005
International BBT News - Contents:
ECSTATIC SANKIRTAN FESTIVAL - the sleeping giant of Alachua wakes up! Visit from Vaisesika prabhu
AN OCEAN OF COMPASSION; POETRY BY SRILA PRABHUPADA - long awaitedtranslation and presentation by Dasaratha-suta prabhu
LIVING AT GOVARDHANA - a conversation with Keshava Bharati Swami about the Sanskrit translation team
COLLEGE PREACHING - in India, report by Bhima prabhu
LIBRARY PARTY IN FULL SWING - News from Vijay prabhu about the new effort.



New Website www.vaisnavasanga.com
by Sita devi dasi and Premanidhi das
Posted November 26, 2005
We want to inform you that a new website http://www.vaisnavasanga.com/ is now online. This web page is both in English and in German. It contains different subjects such as a recipe site (Higher Taste), a kid's page (Nanda Dulal) and a possibility where devotees can introduce themselves and in that way get in contact with each other.
Actually this website has been created with the hope of establishing a place where devotees from all over the world can connect and communicate with each other. Since many devotees live far away from each other we hope that this website will provide the opportunity for more association. So far we found that already-existing forums are often reserved for certain groups or subject matters. We invite everyone who likes to practice or is practicing Krishna Consciousness.
We would be happy to hear your ideas and suggestions.