'Food for Life' Conquers Leicester
Posted December 27, 2005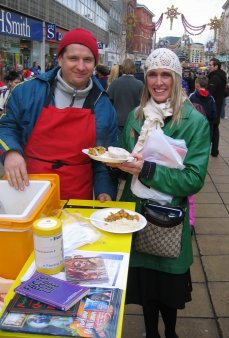 The Hare Krishna Centre for Vedic Studies in Leicester, UK, has launched a unique prasadam distribution programme at the University and City Centre. Prasadam, which is cooked at the Centre and offered to the presiding deities Sri Sri Nitai Saci-Sundar, is distributed from a converted Indian bicycle rickshaw. This gives the mobile service much needed flexibility.
Free hot prasadam, consisting of rice, subji, cakes and a drink, is offered to students at Leicester University in conjunction with the Krishna Consciousness Society there. The Society was established at this year's Freshers Fair where dozens of students enrolled enthusiastically. Three weeks into the programme the mobile prasadam distribution already became talking point number one at the campus.
The rickshaw is highly visible with its metallic blue body and its bright yellow box that opens up to form a table. The two flags as well as the bright red lettering of Hare Krishna round up its spectacular appearance.
Students like to talk with devotees about the philosophy of Krishna Consciousness and a good number of books and 'Back to Godhead' magazines are distributed regularly. Those who are more interested are invited to the Centre, which is only five minutes away from the campus. Some remarked 'where have you been all these years? It is great to see you around!' The programme is the brainchild of Parasurama Prabhu and his London based charity 'Food for All'.
The 'Food for Life' programme in Leicester, which has been operating at a homeless shelter for years, has now also been extended to the City Centre. It was immediately welcomed by the busy Christmas shoppers. Click the link below to see some of the amazing pictures at the Picture Gallery

Picture Gallery

Prasadam Distribution